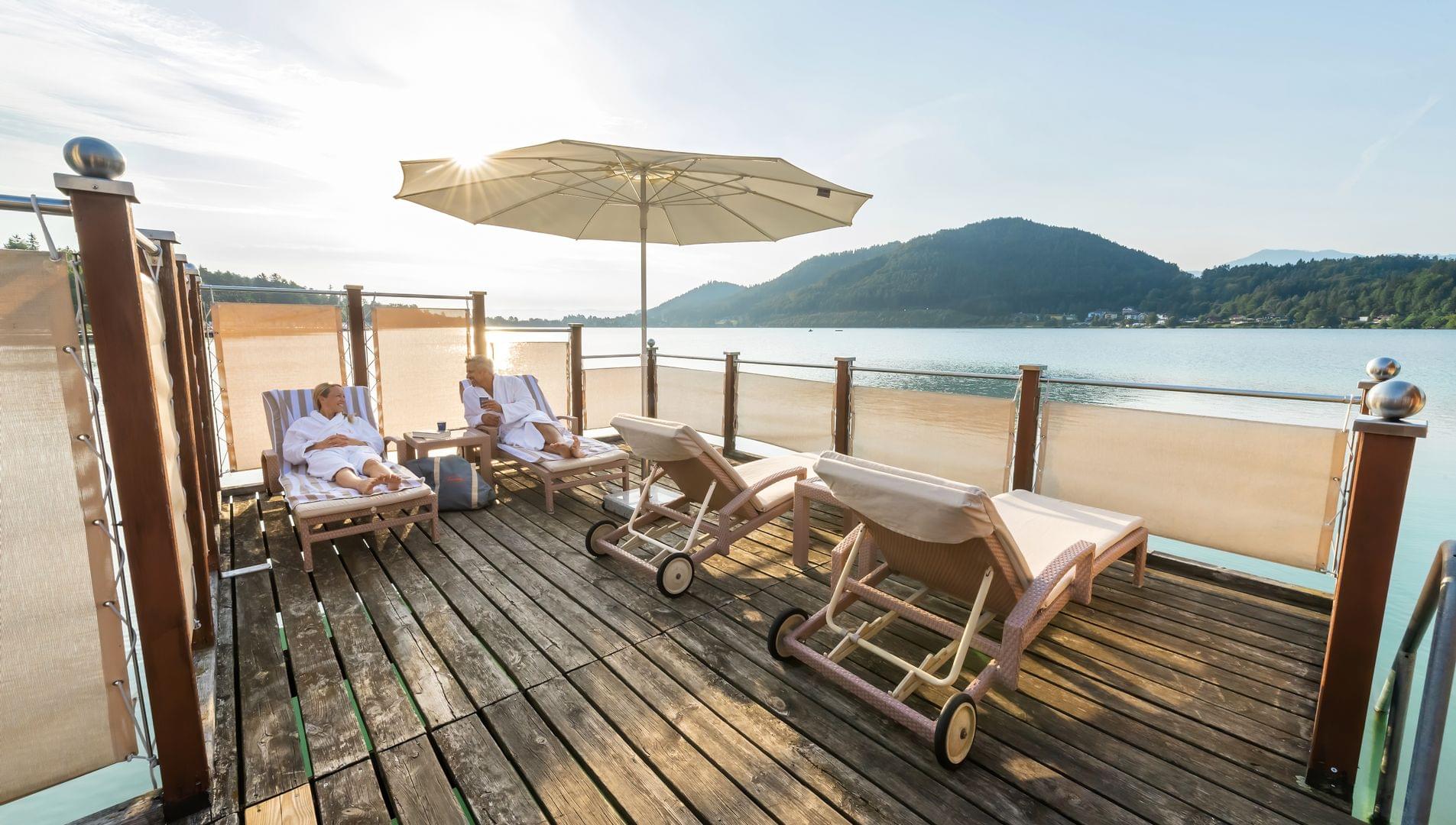 Day SPA in Carinthia.
Day SPA at Lake Klopein
Vacation is a philosophy. Vacation is an attitude and a feeling. But above all, vacation is a matter of holistic enjoyment.
That's why you can also enjoy a vacation by the hour at the Wellness Hotel on Lake Klopein. Just get out of the hamster wheel - and into a holistic relaxation. You have only one day in between - or even only half a day? Perfect - enjoy your Day SPA time-out with perfect vacation feeling in our Sonne Day SPA in Carinthia.
Because we also offer the opportunity to day guests to relax at the highest level: At the Sonne Spa, young people from the age of 14 are welcome, so that those seeking relaxation can finally find their well-deserved rest and make the most of their time out to relax and unwind.
The offer at the Day SPA at Lake Klopein.
Relax programme at Day SPA in Carinthia.
Day SPA am Klopeiner See, das ist Kurzurlaub vom Alltag. Einen ganzen Tag lang Seeurlaub pur genießen. Dazu gibt es im Hotel Sonne viele Möglichkeiten und ein umfassendes Entspannungs- und Genießer-Angebot:
Der Sonne See SPA für Adults Only (ab 14 Jahren) bietet:
Panoramasauna 90 ° mit Eisbrunnen, Regenduschen und direktem Seezugang
Dampfbad mit 45 ° Wärme und hoher Luftfeuchtigkeit mit Aromadüften
Kräuterbadl 60 ° mit wohltuenden Kräuteressenzen
Zwei Ruheräume mit Wasserbetten zum Nachruhen und Entspannen oder mit komfortablen Entspannungsliegen zum Träumen und Verweilen
Fitnessraum mit modernen Techno Gym Geräten
Großzügiger Strandbereich mit komfortablen Liegen und Sonnendeck
Eigene SPA-Tasche mit Bademantel, Handtüchern und Badeschuhe
Umfangreiches Behandlungsangebot von Massagen bis Beauty
seit 2023: Innen- und Außenpool mit Whirlpool, direkt am See, noch mehr Entspannungsliegen, noch mehr Raum zum Genießen
Massages and beauty treatment offers at Day SPA in Carinthia
Treatments at the Day SPA by Lake Klopein
The personal well-being programme is a highlight around a successful Day SPA experience. This includes a mix of massage and cosmetics tailored to your personal wishes and needs to reset and recharge your inner batteries. Browse through the variety of our wellness offers from cosmetic freshness kicks to ultrasound treatments to manicures and pedicures - with or without varnish and let the anticipation pamper you just thinking about one of the many massage options. Full-body and aroma massages await you, as do foot reflexology or leg massages, but also holistic rituals such as hot stone therapy, Pantai Luar herbal stamp massage, singing bowl treatment or ear candle treatment. In addition, there is physiotherapy, peelings, baths and packs. In other words, there are plenty of opportunities to feel deeply relaxed afterwards!
The Sonne Day SPA can be booked on request and subject to availability.