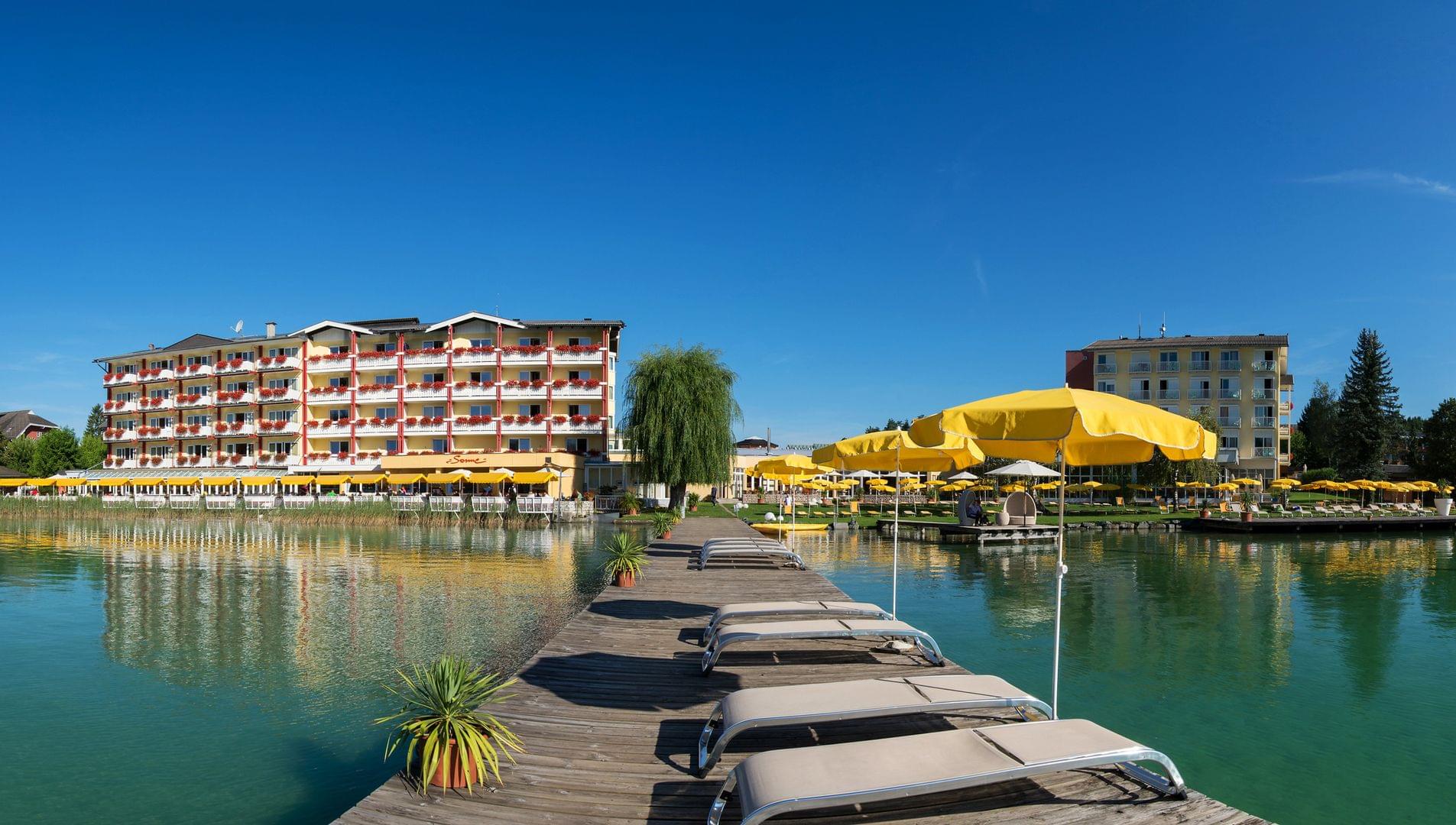 Our hotel directly by Lake Klopein in Carinthia
Location & ambience
Our "Hotel & Spa Sonne" is located directly by Lake Klopein in Carinthia. A place full of joie de vivre. Multi-faceted? Absolutely. Special? In every way. Because our "Hotel & Spa Sonne" inspires and touches hearts – in the midst of a dreamlike mountain and lake backdrop. Perfect for your lakeside, family, spa or active holiday.
So what makes our hotel so special? To start with, there's the location. After all, it's one of a kind. Situated in the centre of Klopein, on the west shore and right by the lake. This means you can stroll through the lively holiday resort with its shops, boutiques, ice cream parlours and eateries or circle Lake Klopein on its attractive lakeside promenade. 5.2 leisurely kilometres lined with artworks and water features and offering glorious peripheral views of the surrounding green and blue.
Over and over again.
Lake Klopein is fascinating.
Because it has that certain EVERYTHING. Lake Klopein is both sporty and romantic, sophisticated and carefree, suitable for kids, idyllic and above all: crystal clear. Bathing in drinking water quality. Now that's pure luxury. Time for a quick test dip of the toes. Ah, splendid! All we'll say is: 28 degrees in summer – one of the warmest bathing lakes in Austria. This is thanks to the endless hours of sunshine. After all, we are on the south side of the Alps. We invite you to explore new shores – in our Sonne lake bathing area directly in front of our hotel. Kick back and enjoy. On our exclusive bathing piers, in our elegant garden wellness area with its velvety soft green lawn, in our exceptional lakeside sauna and more. For even more moments of happiness on your holiday.
A special kind of lakeside getaway
Sonne See-Bad lake bathing area
Carefree beach atmosphere, secluded spots, romantic waterscapes, child-friendly flat shores, relaxed summer feeling: Lake Klopein is bound to seduce you. Crystal clear and sparking clean – absolute purity.Whether just splashing around or getting sporty: Lake Klopein is the place to enjoy your holiday! For your personal break in nature.
Even more space to relax?
As of 2023, you can look forward to a completely renewed wellness oasis that offers relaxation areas both indoors and outdoors and adds that extra boost to your holiday feeling. Through large glass façades, in premium lounging areas and from the whirlpool and swimming pool, the lake is always in sight, ensuring incomparable views for a peaceful and relaxing time.
Guaranteed to be your favourite spot
Guaranteed to be your favourite spot
We recommend our one-of-a-kind "Sonne See-Bad" lake bathing area with the "Sonne Lounge" on one side and the cheerful "Sonnelino Family Beach" on the other. Exclusively for our hotel guests. The central meeting point: the beautiful terrace of the lakeside restaurant.
Tried and tested. As you know: Carinthia is the land of lakes. The most pleasurable, warmest and most exciting lake is Lake Klopein. 1.8 kilometres long, 800 metres wide. Characterised by picturesque beauty, far beyond the concerns of everyday life, nestled into the unique natural scenery of the mountains. And of course, with drinking water quality.
Lakeside longing. What awaits you? For starters, there's the velvety soft lake water, which gently caresses your skin with its pleasant warmth. In summer, you can delight in the sun's rays as you bathe at up to an incredible 28 degrees.
Sonne See-Bad lake bathing area. The sea of colourful umbrellas adds to the holiday spirit as you slowly switch to relaxation mode. Pick your favourite spot on the well-groomed sunbathing lawn or on one of the bathing piers and enjoy the view of the lake. The piers – spacious, dotted with palm trees, made of natural wood and equipped with plenty of comfortable places to lie down. With us, the recipe for relaxation is very simple: Apply sunscreen, spread out your beach towel and put your feet up.
Lakeside fitness. Bringing movement to your beach holiday. Because here at the Hotel & Spa Sonne, swimming, boating, canoeing or kayaking, fishing, stand-up paddle boarding and, on request, diving with one of our partners are the order of the day. Our tip: join in with the Sonne lakeside fitness programme, free to participate.
Lakefront promenade. Circle the whole of Lake Klopein! Carinthia's only uninterrupted lakeside promenade invites you to enjoy a leisurely 5.2 kilometres: of strolling, wandering, sauntering, meandering and soaking up the views. The walk starts directly from our hotel.
Craving a little city air? No problem! It's just 25 kilometres to our provincial capital of Klagenfurt. Golf fans also get their money's worth with us: the beautiful 18-hole course is a short two-and-a-half kilometres from the hotel. For that perfect tee shot. Tennis courts? Four private hotel courts await you. And of course plenty of fun water activities. After all, you are at Austria's warmest bathing lake.
Allow us to be there for you. To cater to you. To spoil you.